Residency
Supporting experimentation and future-oriented forms of community around ecological thinking & the arts.

TUO TUO is an artist-led project space and residency located in a former schoolhouse in Joutsa's Pynnölä village. (Est. Jan. 2020)

An alternative to established urban institutions, TUO TUO negotiates the point of convergence across sound, visual art, performance and the environmental arts and sciences. TUO TUO is an ever-evolving collaborative organism – a unique ecosystem within the field of the ecological arts.


O worm supreme: Jammy Fungi by Essi Nieminen (2020)

---

Our mission is to function as fertile ground for ideas and to nurture close cooperation between artists, thinkers, researchers and other cultural actors through transdisciplinary programs and residencies. In seeking the balance between pancultural pluralism and local consciousness, we are committed to integrating with the social and cultural life of Joutsa and the rest of Finland, while maintaining an international focus.


A place where solitary breeds solidarity, we support radical (re)thinking across disciplines by providing space in a supportive atmosphere. We welcome projects and proposals in the field of environmental humanities: ecological art and research, ecopsychology and healing, poetry and permaculture, are some examples.
SALDO: an exhibition by Noa Machover & Eefje Stenfert (2021)

bio material sculptural prototype buried in snow by Austeja Platukyte (2021)
---
Invitations
Residents are invited based on the correlative balance between their desired conditions for a residency experience and TUO TUO's means and provisions. We aim to provide the optimal conditions for each resident based on their process, needs and freedom to nurture their creative minds and spirits.

If you're interested in coming to TUO TUO for a residency or project, send us an email tuotuoarts@gmail.com︎︎︎ or fill out our general online form.
2024 residency openings ✢ deadline Oct. 30, 2023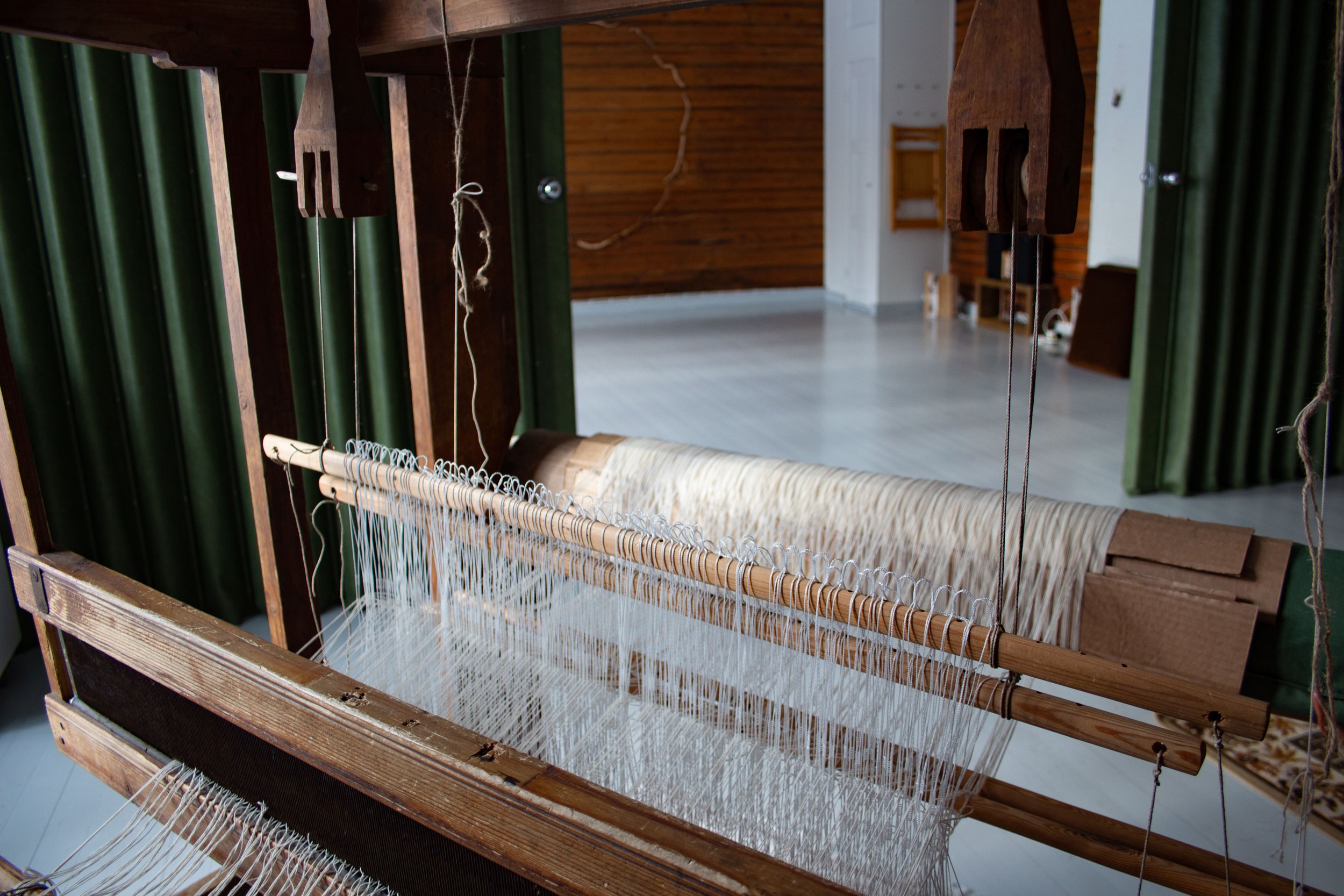 The antique loom at TUO TUO (2022)
Soft Craft: a performance by Sara St. Clair (2021)
---
Things To Know
---
---
---
---
---
---
Kesätyö: by Sadet Hirsimäki (2020)
---
Artists & Researchers in Residence
2022


Milah van Zuilen
Simone Engelen
Kiia Beilinson
Selma Haro
Aino Ojala
Heinä Loukimo
Athanasía Maria Aarniosuo
Sara Blosseville
Aliisa Perikangas
(A) Khodyreva
Marije Dijkstra
Caroline Vitzthum
Angelica Bryant
Florence Warner
Lisa Biletska
Ilya Dolgov
Milka Luhtaniemi
Mara Kirchberg
Wille Hyvönen
Vimala Grace Hile
Baby Haupert
Paola Torres Núñez del Prado
Roscha Säidow Agnieszka Popielak
Even Minn



2023 Brad D. Mullen
Emma Larkovuo
Feminist Culture House
Nina Vurdelja
Millie Gleeson
Jamsen Law
Özgü Gündeşlioğlu
Bettina Willnauer
Angelica Bryant
Florence Warner
Victor Gogly
Alba Ala-Pietilä
Eero Karjalainen


Agnieszka Popielak

Cyane Findji &
Genietta VarsiRoscha Säidow
Tuija Huovinen
2020
Kiia Beilinson
Henriikka Kontimo
Julio Lugon &
Judith Gebhardt
Paola Ruiz Moltó
Diana Pereyra Vidaurre
Robin Lesley Nimanong
Laura Esplin
Wendy Lin
Liina Aalto-Setälä
Dylan Ray Arnold
Elina Priha
Wille Hyvönen
Siiri Raasakka
Dagmara Maslowska
2021


Pablo Firpo
Susanna Storbacka
Iiris Kaarlehto &
Klaus Maunuksela
Riikka Thitz
Anne Naukkarinen
Mimi McPartlan
Alex Charry
Taru Koski
Heli Keskikallio
Roby Redgrave McPherson
Dorothy Zablah
Joaquin Aldunate
Babi Brasilero
Martina Dahm
Martta Kiikeri
Yoonsik Kim
Dunja Krcek
Austeja Platukyte
Daisy Crane
Justin Evans
Eefje Stenfert
Noa Machover
Milah van Zuilen
Anna Jensen
Sara St. Clair
Christina Stark
Vishnu Vardhani Rajan
Ingrid André
Marine Prunier


---
TUO (Finnish, nominative, eng. 'the Other')
TUO (Finnish, third-person verb, eng. "brings").
The name TUO TUO speaks of our commitment to praxis and the progressive, pluralistic values at the heart of our operations. Our response to the growing emergencies facing our planet is not to turn away from culture, but to become all the more demanding of it. We see the keys to progress through participation, experience and openness. The environments we create for ourselves shape the kind of humans we might become.


MÄTÄKUU: Vaeltavat Säikeet by Riina Hannula (2021)